Back to Adventures index menu


PEYOTE
Note: A week has passed since Jorge and I took peyote and neither of us regrets it. I feel more at peace with myself (and thus the world) and Jorge, aka Noala Guerra, reports from Tulancingo, Hidalgo that he is getting gigs and in a good space.. 4/21/13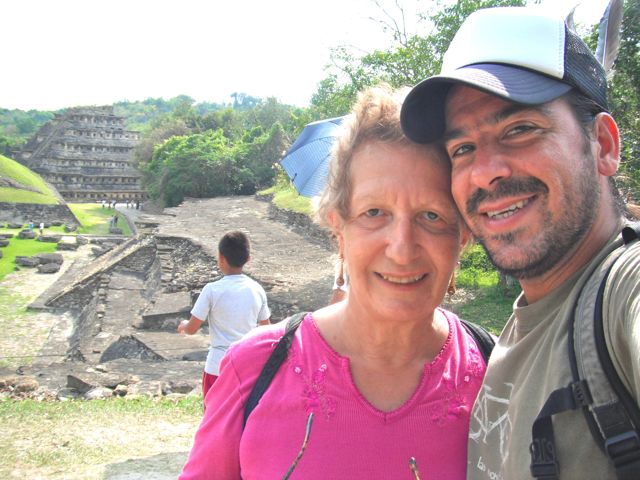 The world, nay Time, in two separate realities. Always the word "reality" coming to me. In one the cosmos reinvents itself consciously but not endlessly. It chooses to go on, or not. Because I was meditating on death it seemed right to go into the high desert of adobe dwellings and prickly brush called "gobernadoras" – female bosses. I didn't translate them as leaders, more like rulers. (To rule is also to measure and allot, to dole out, to make law.) The gobernadoras hold down the dust.
I was old and in the desert in the heat of the afternoon, under a mesquite tree. Jorge was solicitous for my comfort, moving the dusty dirt to make a place for me to lie in such shade as there was at around 3 p.m. daylight saving time. But I wanted to sit up and I am so unused to sitting on the ground. I am worried about my legs and not being able to stand again because I am putting my weight on one leg and I think I must manage to cross my legs "Indian style" as I learned in kindergarten. Let's say I was physically not prepared.
At dusk Rogelio, the man who had driven us to this spot, returns to drive us back to the adobe room with a bed and a cot. I lie in the bed. It is pitch black dark. I ask Jorge to help me take off my money belt so I will be more comfortable and then I lie in the bed. I wasn't exactly hallucinating in the desert in the sense of seeing what wasn't there, but the gusts of wind were alive without being living or vice versa. I knew this was just the beginning, but already I wanted it to end.
In the darkness I longed for the light of day and quotidian time. But where I was time was measured in cycles of billions of years and the current cycle was coming to an end. In the immensity of time the 24-hour day did not exist. Yet I was still Barbara and Jorge was Jorge. But I am also responsible for the cosmos and Jorge is also my younger and stronger companion. (Jorge later tells me that he felt he was my father and that he was responsible for my wellbeing.) I tell Jorge that I am seeing the whole cycle of the cosmos and the bad that people have made of it – images of Nazi concentration camps and the genocide in Rwanda come to mind. It is wrong for a world with so much pain and suffering to exist. Why would I choose it to go on into yet another cosmic cycle? I also wonder what is the force behind all the cycles. (In retrospect the images were a mix of the big bang and Hindu and Maya cosmologies.)
I knew that what I was experiencing was real, but I also knew that I also existed in another reality, the reality of every day life, and that the two realities could not co-exist. I tell Jorge that the work of the poet was to create metaphors and so bring the experience of one reality into the other.
Every so often I would feel great thirst, as if I would die without water, and I'd ask Jorge to bring me some water and he would. I couldn't drink any, but I would sit up. I just needed it to wet my mouth and then to feel the water drip down my face. I felt like I was the source of rivers. I felt that if I didn't have water, I, Barbara, would die.
I thought I would die without the water (but Jorge later told me he knew I could not die of dehydration in one night and that if I really had needed the water I would have gotten up and reached over to the water bottle which was next to my bed). Thank god, he played along. Also I kept calling out "Oh, my God." I didn't know what else to say, but I had to say something. Jorge said nothing. More than wanting to stay alive, I did not want to die there in the desert. It seemed wrong to inflict my death on our hosts. Old, American women cannot die in a peyote hotel in the desert without attracting unwanted attention from the police and authorities. I did not want to make problems for anyone.
Jorge only complained once, saying it was a good thing we only spent one week a year together. (Later he said that he had no problem waking from his visions to tend to me, what was foremost was the pact he had made to not abandon me. And Jorge had eaten more peyote buttons than I had.)
I also realized that I don't want to die in a hospital. Between the two realities, the only one that counted was the one in which doctors and scientists were irrelevant. I want to die in my bed with Jorge or my son, Gabriel bringing me water.
And then there was the problem of my bladder. Maybe four times during the night I had to ask Jorge to take me outside to pee. How it was that I had to pee so often without having drunk more than a few sips of water is a mystery. The outhouse was too far away, so Jorge would take me around to the side of the building and I would lower my pants and without effort a stream would flow. Not a mere trickle but not a river either. Then he would hand me some toilet paper. In the morning I saw all the toilet paper on the ground and hoped it wasn't discovered until we had left.
At some point, seeing Jorge on his cot, I asked him if he would like to get into my bed with me, and he did. It was such a comfort for us to lie there in a close embrace. Later he told me that sometimes he felt he was on top and sometimes he felt he was on bottom. I know we didn't move and that I was on my back and he next to me with his arms tight around me. I felt very safe and comforted.
Then the dogs started to bark and Jorge said the driver who had brought us from Wadley yesterday had come to get us to bring us to the Willy jeep that would take us back to Real de 14. It was daybreak; the effects of the peyote had mostly worn off and I was feeling kind of woozy.
There were two little girls, sisters, maybe 4 and 6 sitting opposite us on the Willy. They were beautiful and alert and radiating good health in their new pink nylon jackets with fake fur trim. The world obviously was not ready to end. And for the whole trip, perhaps an hour moving slowly on a narrow road cut out at the edge of a cliff, nobody spoke and there were no electronic devices to play with. And I thought how wrong the experts were who said that young children needed to be talked to. How far we were from the world of distractions and complaints.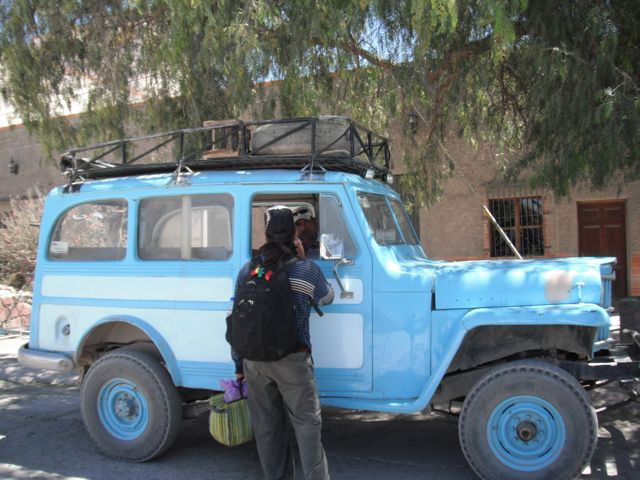 ---
View Larger Map
I am used to doing things on my own, being independent. I travel 14 hours by bus from Puerto to Veracruz. I pack only what I can carry, my leather duffle bag is heavy but not so heavy that I cannot carry it the short distance across the bus station. I also carry a money belt tucked into my panties and with cash and documents and an ATM card from my U.S. bank. Above my clothes I have a Velcro belt with pockets affixed – like a fanny pack but hand-made and elegant. In one pocket are my cell phone and my senior I.D. for bus discounts and also a small amount of money.
In my leather shoulder bag I have my Mexican visa and an ATM card from a Mexican bank. All this in a hidden zippered compartment that also has around 1,000 pesos ($80 U.S.). And then I have my zippered money purse with big bills – two of 500 pesos in a side compartment and a billfold with smaller denominations. And I have my camera.
I also carry a stiff, woven nylon zippered case the size and shape of an old-fashioned cosmetic case or shoebox. In that I carry a sweater, my Kindle, toiletries, water, snacks etc. This stays with me on the bus. (Jorge is carrying it in the photo of the Willy.)
I am not afraid of being mugged or robbed on the street anywhere, but I am afraid of bandits holding up the bus. My idea is to hand over everything that is in my purse so as to not have to give up the money belt. A bandit might think that one ATM card and one official ID is everything. Let us just say that these are my talismans and that makes me feel safe and secure. I am attached to this world and to my comfort in it and my independence.
I arrive in Veracruz at 9 a.m. Saturday, April 6, 2013 at the age of 66. I was last there on and about November 11, 2005 when I was 59. I buy a bus ticket for 1 p.m. to Papantla, in the mountains in the north of Veracruz state. There is where I am to meet up with Jorge. Another place I have been before.
On the earlier trip I went in my 1985 Volvo with Carlos driving. We had stayed at the Hotel Imperial on the main square, and we had walked on the Malecón promenade in the port. So I leave my big leather bag and the small case at the bus station and have a breakfast nearby of scrambled eggs and bacon. (Mexican style is to cut the bacon into bite sized pieces and scramble them with the eggs.) It has been at least a year since I have eaten eggs or bacon, a gesture to the cholesterol problem and also because I had lost my taste for them. Now I eat the same breakfast for 6 days. It just seems right.
Then I walk on the port promenade. At this hour there are very few people and it is not too hot. After a while I take a taxi to the main square and have a cappuccino. Then it seems time to go back to the bus station. It's a 4-hour trip to Papantla.
The city of Veracruz, state of Veracruz, is the oldest Spanish settlement in Mexico, founded by Cortez and culturally and climatically (tropical) it is closer to Cuba than the rest of Mexico. The song La Bamba comes from Veracruz. Papantla is in the mountains in the northwest of the state. It is famous for its vanilla plantations and the pyramids of El Tajín. The center of an important culture between 600 and 1200 A.D., it was mostly left to the jungle until recent years when it and Papantla became a tourist destination. It's only half an hour from Poza Rica on the coast which is one of Mexico's most important oil towns.
Mexico is a semi-socialist state (compared to the U.S. what isn't?) and in 2001 the tourism department started a program called Pueblos Mágicos (Magical Villages) to encourage tourism, mostly domestic. To be part of the program your village has to be in a beautiful place, mostly in the mountains, and have some kind of cultural significance (pyramids, abandoned silver mines, colonial churches, whatever). Then the village is given money to fix itself up so that it looks at least 100 years old, even the new buildings have old style facades and the streets are always cobblestone. Usually these villages are within an hour or two of a major city and the hotels and restaurants are all small, no chains. Think Napa Valley or Mendocino or the restored ghost towns east of SF. Sure it's fake, but who cares because the food is always good and the pace tranquil. (Hint, most Mexican cities are as interesting as say, Tulsa. Maybe a good place if you are from there. So I can't knock the Pueblos Mágicos.)
Papantla is on the map now not only for its pyramids at El Tajín and the Totanac Voladores, but also for its international music festival which is somewhat modeled on Woodstock. You bring your tent (or maybe rent one) and wander from stage to stage. Unlike Woodstock, it's all very organized. Groups you may have heard of include Ziggy Marley and Smashing Pumpkins as well as huge Mexican groups like Tigres del Norte. Jorge was given a spot on one of the smaller stages. This was his second year performing there. After the festival Jorge had stayed on at a new ecotourism lodge for a week, doing some work in exchange for a place to pitch his tent and also performing in a new Italian restaurant/bar.
At 5:30 p.m. on Saturday, April 6 - 23 hours after leaving Puerto - Jorge met me at the bus station. From there we went directly to the Italian place to eat and to hang out with the Italian-Uruguayan owner who also has a restaurant in Veracruz. I had a couple of tequilas and then insisted on being taken to the ecotourism place where I was given a rustic cabin with hot water. I desperately needed to shower and change my clothes. After all, I was scheduled to perform the Mariposa Negra that night. I rested a little then we went back to the restaurant. I had some more tequila with the owner and his friend. The place was packed, maybe 20 or 30 people, when I finally did the Mariposa Negra to much applause. I had some more tequila, and. then I took a taxi back to the lodge, it must have been 2 a.m. I must have been a little drunk – travel, little food – because I woke up later and vomited. Something I rarely do. Luckily I made it to the bathroom.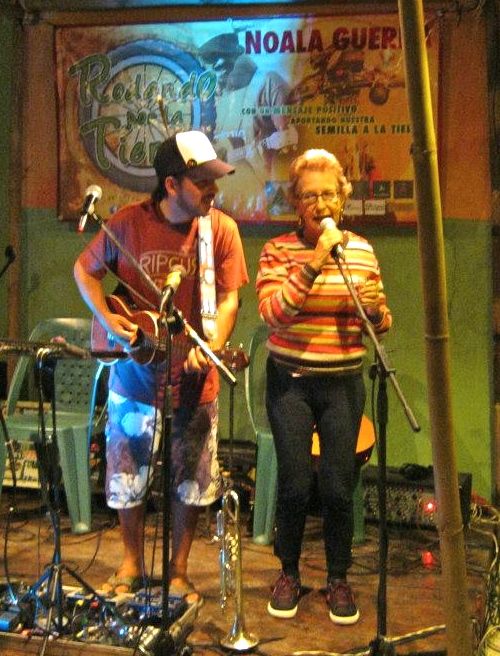 The next day, Sunday, we visited the pyramids (my second time there) and then we went to the bus station to get a ticket to Tulancingo, Hidalgo. By this time I had suggested to Jorge that we go to the desert near Real de 14 (pronounced ray-AL de ca-TOR-say) San Luis Potosí to do peyote, and he thought that was a good idea. He left his bicycle and instruments with the restaurant owner who said he would bring them to his other restaurant in Veracruz. The plan was for Jorge to be there on Wednesday the 17th. So we decided to leave Papantla on Monday and continue on to Tulancingo, Hidalgo.
At the bus station we found out that the only bus to Tulancingo left at 5:15 a.m. We bought our tickets and then found out that there is no taxi service in Papantla at that hour. Luckily, the owner of the lodge offered to drive us there.
It was only a four-hour trip to Tulancingo and we went straight to the hotel Colonial, a block from the main square. I had a large single room on a large courtyard with a fountain for only 310 pesos a night - $24.00. A much better deal than the ecological cabin which cost 400 pesos a night - $32.00. Jorge was to spend the night with his cousin's family there. Meanwhile we both showered and napped in my room.
I much regretted not having put Lonely Planet Mexico onto my Kindle. But now I see there is only one paragraph about Tulancingo and no hotels or restaurants listed. We went to the Colonial because it was recommended by Jorge's cousin.
Tulancingo is the second largest city in Hidalgo, it's only two hours from Pachuca, the state capital and its biggest city. Think San José. No reason to visit unless you have business or family there. What they very much do not have is coffee. Forget cappuccino; the only coffee served in restaurants and coffee shops is Nescafé. (For the record, while Nescafé is sold in grocery stores in Puerto, it's always on some dusty back shelf and it is definitely not served in restaurants.) They even had Nescafe "cappuccino" machines and big Nescafe ads on the sides of buses. So after a nap in my room – Jorge wasn't meeting his cousin until 5 or 6 – we whiled away the afternoon playing dominos on the balcony of a bar/coffee shop. Since I refuse to drink Nescafé, I had a vodka. I was happy to spend the night alone reading and sleeping, while Jorge partied to all hours with family and friends.
Tuesday, April 9 we left Tulancingo at 10 a.m. for Pachuca.
A little orientation: The inland states of Hidalgo and San Luis Potosí were major centers of silver mining from the 18th to the early 20th century. A "real" – meaning royal – was the old Mexican term for a silver mine, since, in theory at least, the silver belonged to the crown. The mines around Pachuca were owned by British companies starting in 1820 (after Mexico got its independence from Spain), and they are credited with bringing modern industrial techniques to Mexico as well as Welsh miners, who, in turn, introduced "pasties" (a kind of individual-sized meat or fruit pie), soccer and the Methodist church.
Nothing to see in Pachuca except a replica of Big Ben in the main square, so after buying our bus tickets for the midnight bus to San Luís Potosí, we took a colectivo bus to Real del Monte, a Pueblo Mágico 30 minutes from the city. Attractive small hotels, a 19th century Methodist church, lots of souvenir shops selling silver Jesuses on the cross and restaurants featuring Nescafé. We took a Turi-bus – a guided tour that took us to an abandoned mine. but not too close. We learned that the miners organized the first strike in Mexico in 1766 to protest a cut in pay. The word "strike" didn't exist for another 100 years in Spanish, but the workers organized and refused to go back into the mines until the Spanish authorities stepped in and gave the workers what they had demanded – their share of the day's production, which they could sell on the open market. Still, thinking of the forced labor of the indigenous population and just the dreadful conditions of the mines… I don't know, I just have a problem with wedding mining with magical villages.
Since we had nothing else to do, we stayed until dusk and played dominos in a café where we ate some pasties. The bus station luggage room closed at 10 p.m., but not taking any chances we got there around 9 and then hung out in the bus station waiting room for three hours.
Friday night, April 5-6, I spent in a bus, Tuesday night, April 9-10, I spent in a bus. Thursday night, April 11-2, I would also spend in a bus and Sunday night, April 14-15, too. Total four nights in 10 days between April 5 and April 15. This was not by choice; Mexican long-distance buses only travel at night.
Jorge traveled with an I-Pod that had Internet, but there was no Wi-Fi at the bus station. My Kindle, however, had a 3G connection that gave me a slow Internet in black and white. I couldn't use it to check my e-mail but it did function with Google. No touch screen, just navigating with up-down, left-right buttons. Very primitive. But I managed to get onto the Lonely Planet website and found a great hotel in San Luis Potosí.
We got to the hotel de Gante at 5 a.m., but check-in wasn't until 7. I explained to the night clerk that we could sit in the lobby for two hours or he could give us the room now. He called the manager and we got the room: 430 pesos for a double overlooking one of the main historic plazas. Not as nice as the Colonial in Tulancingo, but satisfactory.
The center of the city of San Luis Potosí where the main churches and government buildings are has much to recommend it. There are two bookstores, a rarity in a country of 115 million people and only 500 independent bookstores, according to the owner of one. And it's not like there are large chains or people using Kindles. Department stores usually have a book section of maybe a dozen shelves, and that's it. Also there was a Sears next to one of the bookstores. It is very rare in Mexico to find a department store or chain boutique outside of a shopping mall a long way from the center of town. I bought a Calvin Klein bra for $25 marked down from $40. There was also a modern art sculpture museum with some really interesting work.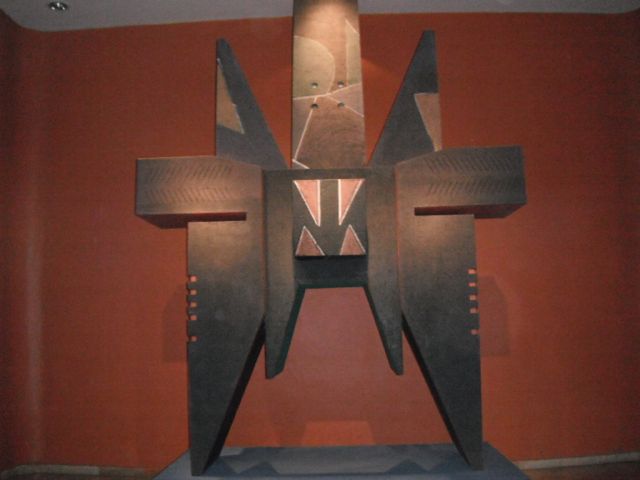 My favorite sighting was an 1894, stone, Presbyterian church, built on the grounds of a former convent.
Wednesday we slept until noon and then I insisted on some time off to explore on my own. Wednesday night Jorge hung out with his friends and slept at the house of friends or relatives. Thursday we did a tour of the historic center following the route outlined by a tourist guide given me at the tourism office.
Friday April 12 at 9 a.m. we headed out to Real de 14. Although our tickets were to Real de 14, we had to transfer in Matehuala. We got there around noon and then had to wait two hours for the connecting bus. The bus station was far from the center of town so we took a taxi and had a late breakfast – at least they gave us a breakfast menu. The taxi driver told us that the Santa Fe was the best restaurant in town – it certainly was large and the food was good but it was very simple. No gentrification here.
We had to change buses one more time to get to Real de 14. This is because the only entrance to the town from the two-lane highway was through a narrow, one-lane, 2.3 km tunnel, built around 1900 for mule-drawn trams when Real de 14 had an important silver mine. There is a guard at both ends with a walkie-talkie to make sure every one who enters leaves before vehicles can go in the opposite direction. Also the tunnel is too narrow for a standard bus. So we had to board a bus that had seats against the sides, like a bus at airports that don't have boarding gates. Except this was a very old, funky bus. The tunnel was dark except for some naked yellow bulbs hanging from the roof, the road way is bumpy like cobblestone and the tunnel has turns. The bus leaves you at the exit. Then you start walking up hill into the town. It was 1 p.m. Friday, April 12; four hours since we had left San Luis Potosí.
There are magical villages, and then there is Real de 14 which is in a magical village class of its own. Probably it has to do with its proximity to Monterrey, Mexico's richest city. I had decided that we would stay at a really nice, even luxurious hotel. After all, I had been on the road for a week and now we had reached our destination. A man came to guide us and we asked to be taken to the best hotel. I never saw the room, it cost over $100 a night. Then he took us to another place nearby. The room was $56 (700 pesos) and it was plenty luxurious for me. It was enormous with a large sitting area and really nice beds and covers and a huge terrace overlooking a small square with a gazebo and a great view of the village and mountains. The soap and shampoo came from Italy. The bath towels were fluffy and thick. The ceilings had wooden beams. We were the only guests. In fact there were very few tourists in town since the two-week Easter school vacation had ended the previous Monday and the weekenders would not arrive until Saturday.
If I had never gotten further than Real de 14, it would have been enough. It's on a mountaintop, at 9,000 feet surrounded by valleys and other mountains. It can be hot during the day and cold at night, but when we were there it was never too hot or too cold – really similar to the East Bay hills. Besides the scenery and the narrow cobblestoned streets, there were really fine Italian restaurants and the cappuccino was plentiful. (There is a lot of serious Italian cuisine in Mexico often owned by expatriate Italians married to Mexicans.) The main tourism activity was horse back riding, the horses looked good but short of stature. In the event one day of sight seeing – the town's two churches and the former royal mint now a museum - was enough, and on Saturday we set out for the desert.
The only transport is what the locals call a Willy – in fact an ancient Land Rover – which operates as a colectivo bus with passengers inside and on the roof. Jorge chose the roof. We descended 3,000 feet in one hour on a one-lane road more or less cut out of the side of a cliff. And despite my fear of heights, I wasn't scared at all, because we were going very, very slowly and the driver obviously knew the road.
Jorge had never done peyote and neither had I. The plan was to get a room in Estación Wadley from a certain man whose name had been given to Jorge by a friend. This man would drive us into the desert and help us find peyote buttons which we would have to dig out of the ground and cut. Then he would pick us up in the morning. A friend of mine had been in the region in August and had a similar experience. So I understood that peyote tourism, although highly illegal, was a cottage industry.
When we arrived at Wadley (pop 500) everyone quickly dispersed, but a man in his 30s came over to us and said he could take us in his pick up truck wherever we wanted to go. Jorge told him the place his friend had recommended, but the man said he knew a better place where the rooms were closer to the peyote area. Jorge and I stepped back to consult with each other. Did we trust this guy? I said, yes. (It's not like I didn't realize that anyone could take us into the desert and rob us or even kill us, but the guy wore better clothes than ours and the truck was clean, and it seemed that he would take us some place and get a commission besides what we paid him and that it was all good.) So we went with him for a half an hour until we arrived at our final destination. He charged us 300 pesos ($24) for the round trip, saying he would pick us up at six so that we could take the Willy back to Real de 14 the next day. I gave him 250 pesos, saying I'd give him the rest tomorrow. No problem. The driver tells us that he too has taken peyote.
Where he took us was a bona fide government Wirikuta (Huichol) Cultural and Ecological Reserve. I have a numbered certificate with my name and the date on it, valid for two days. It lists a number of rules for non-Huichol people prohibiting the extraction of plants, animals and artifacts. But the number one warning, in big letters was "The extraction and illegal traffic of peyote is a federal crime."
Where we were was an adobe structure where there was an old woman, some children and a big man around 40, and the rest wilderness. We look each other over, like in a Western. Jorge and I have nothing to hide; we're not drug dealers. We are an older American woman and a younger (37-year-old) Mexican who are good friends. Strange, perhaps, but not dangerous. And the family seems to be welcoming. As it turns out, they have two rooms that they rent out for peyote tourists. We each paid 50 pesos ($4) for our room and the permit.
After we get settled in, Diego takes us in his pick-up truck to the place with the peyote. As we drive he tells us of all the problems with the police. The bribes or fines are very high, incarceration is always a possibility. It's as if he were talking about the weather. I am not worried. What are the odds? Finally we come to an area fenced in with barbed wire. He says this is his private land; it doesn't belong to the ejido (community) and we will be safe here. He cuts the wire and drives through. I take this as a sign that he trusts us.
Diego stays with us for a while, shows us how find the peyote – which is half buried and must be cut with the bottom half staying in the ground and covered up again so it will keep growing. He has brought a knife. We didn't even have one with us. Then he showed us how to rinse off each button – they averaged 3 inches in diameter – with the bottled water we had brought and to trim it without removing the skin. He said they would be very bitter, but I found them no worse than some of the exotic greens put in salads these days. I ate three or four; they had the consistency of cucumbers. But each one became more bitter in my mouth until I could eat no more. Finally, I vomited. But it was not a heaving vomit when your stomach comes out; it felt more like it had not even gotten that far. And all those years when I had been afraid to eat peyote because I had heard it made you throw up, I had no idea that it was no big deal. Obviously what I had ejected was not the psilocybin.
In the truck, Diego had told us than he and his family members sometimes ate peyote, but only when they were sick. I can see how it could help the body heal itself by relieving stress etc. He told us that some people came to the area and took away as many as 40 plants. This obviously did not make him happy. When he saw that we were all right he said we could walk back or he could come back for us. Jorge would have been willing to walk, but I asked him to pick us up later.
Then there I was lying on the ground, stoned, no thoughts, conscious only of the tree, the sun, the wind. I tell Jorge I'm ready for this to end. He says it's just the beginning.
We got back to Real de 14 at 8:30 a.m. Sunday morning, almost 18 hours after we have left, and we went back to the same hotel and got a room and went to sleep. We left Real de 14 on the 5:45 pm bus (same deal of taking one bus through the tunnel and another to Matehuala). Before we left Jorge ate, but I had no appetite. We got to Matehuala at 7:30 p.m. and then had to wait at the bus station until 10 for our bus to Mexico City. From there Jorge was to take a bus to Jalapa, Veracruz for his girlfriend's birthday (it's complicated), and I was to fly back to Puerto Escondido. We got to the bus station at 5 a.m. with many hours to kill before our respective departures, so we had some coffee and played dominos.
---
A note on bus travel in Mexico. Outside of regional buses that stop at every town, there are two classes of buses connecting major cities: first class and luxury. Both are heated or air conditioned and have bathrooms. The luxury buses (and some first class ones) have touch screens behind each seat that allow you to choose from around 20 movies (all dubbed in Spanish), some rock concerts, and music stations. Of course you are given earphones when you board the bus along with water or coke and a sandwich. The luxury buses also have more comfortable seats and more legroom. Sometimes they even give you a pillow. The neat thing is that by law four seats have to be reserved for seniors who have an official senior citizen card, as I do. Other seats are reserved for students and teachers. (Of course if they sell all the seats they don't hold any open for people with discount cards. On the other hand, I have never taken a senior seat that might have gone to someone else. I tend to be one of the oldest travelers. The discount is 50%. So the $80 ticket from Puerto to Veracruz was only $40. I think outside of the plane my travel cost was less than $100. I also get big discounts at museums and bookstores give 10% discounts to seniors.
Barbara Joan Schaffer.
Back to Adventures index menu